---
Starground Virtual Online Tour
Outdoor Festival


It's a beautiful sunny spring day, which is nice because a festival called Skidfest is scheduled in downtown Newark Delaware. It features between 5 and 8 bands and occurs twice a year. Starground Audio has been providing sound for this festival since 1995.
---
Skidfest - A festival for charity
Newark, Delaware, May 1st 2004

The Skidfest concert was an excellent success. By using multiple delay zones, sound quality was extremely good and consistent. The event draws big crowds, and this particular day was no exception. Fortunately, the consistant sound quality meant fans didn't have to fight to stand in the sweet spot. In fact many to arrive late couldn't even see the band, by they reported that the sound was the best they had ever heard in Newark.

Another party in town was shut down by police and many party-goers arrived at Skidfest to stand outside the event and drink beer in public (a violation in Newark). These individuals eventually disrupted traffic. Unfortunately concert organizers failed to repond to this problem and police shut down the event one hour before its completion.

Still it was a wonderful event which made more money for charity than any other Skidfest.

This event is difficult because of its size (small) and popularity (large), and that's why it is chosen to represent Starground's ability to produce audio for festivals. Hopefully your festival will not be as difficult.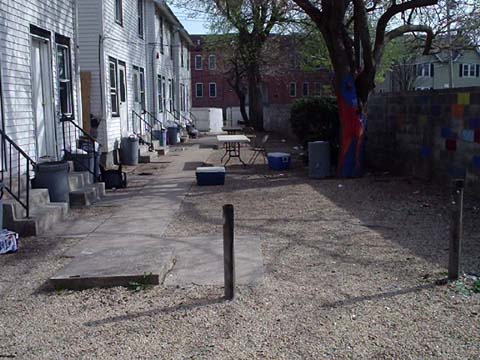 The event location is visited several weeks before the concert. The dimensions are measured and put into a CAD drawing program. Sound system design and speaker placement are perfected using Meyer MAPP to predict accoustic and system performance.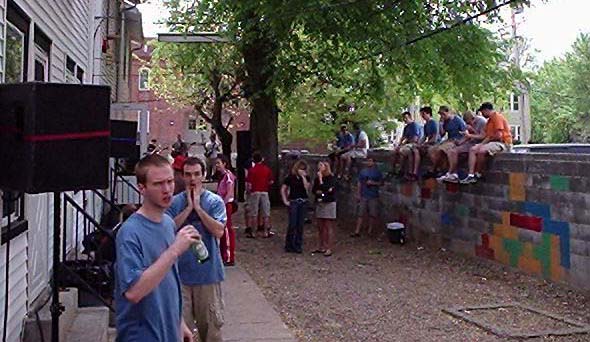 David Muddiman arrives onsite at 6 AM. The system is setup including the multiple delay zones. The speaker distances are carefully measured to assure any variations from the CAD design and the actual location are accounted for. Finally each zone is equalized to account for low/mid frequency coupling and high frequency air attenuation.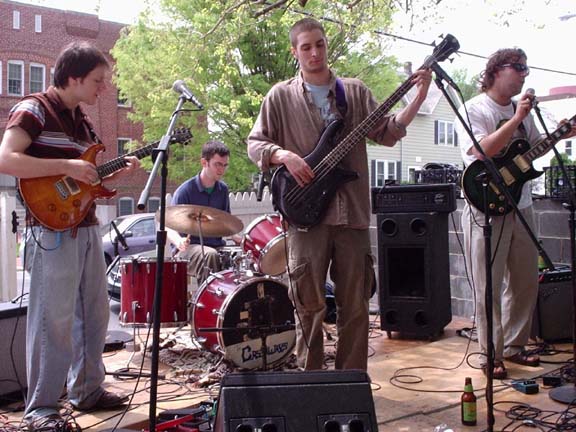 It's noon and General Electric ,the first band, begins to play.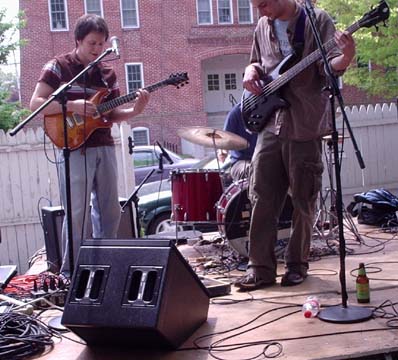 Another picture of General Electric which includes one of Starground's Meyer "Ultra Monitors" originally developed for the Grateful Dead, the band which "invented" vocal monitors. Starground uses a seperate monitor console to equalize microphones differently than on the main mix. Six 31 band equallizers are used for each monitor mix.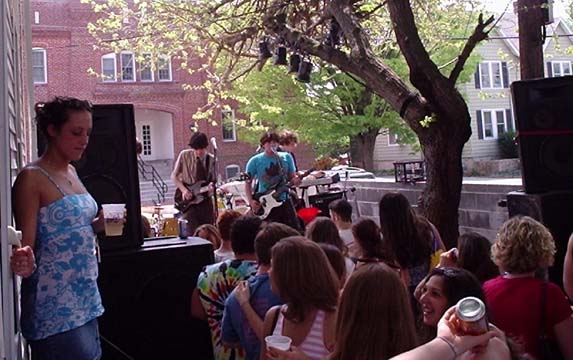 More people begin to attend the event. And even though it still feels like morning, the beer has begun to flow and the event is in motion.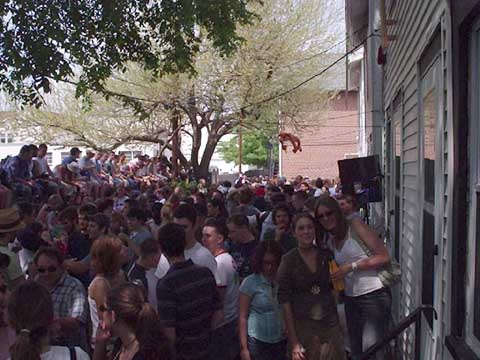 Now the crowd is filling up the space. With many people content with the sound in the back.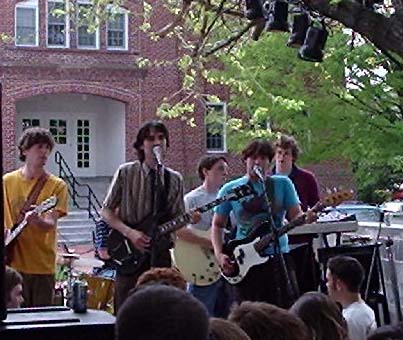 The second act, the Spinto Band, plays their first Skidfest.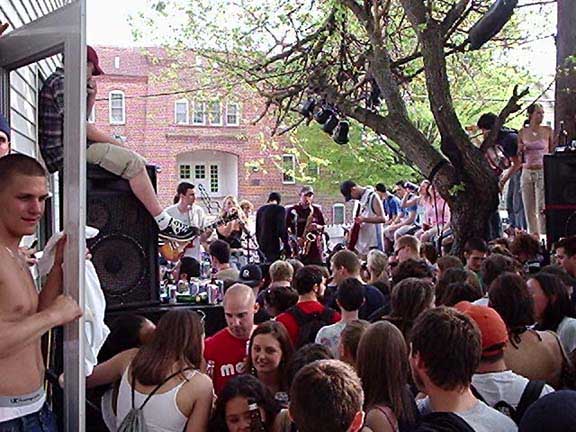 The third band, Brother Sister, plays their second Skidfest.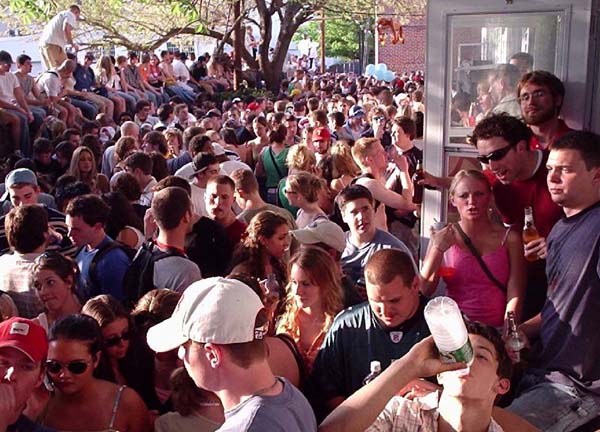 By now it's late afternoon and the crowd is very large. Once again, the clear sound in all locations, allows everyone to enjoy the event without having to crowd up in the front.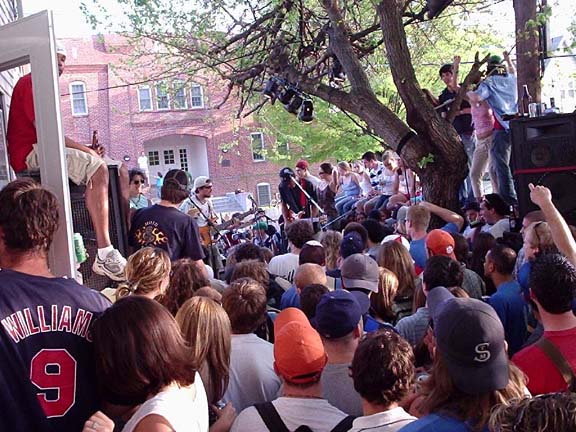 Lefty Groove plays their last concert ever. Sitting on the wall gives people a better view, but by now they can't help but stand up and dance on the wall. Something which is not recomended.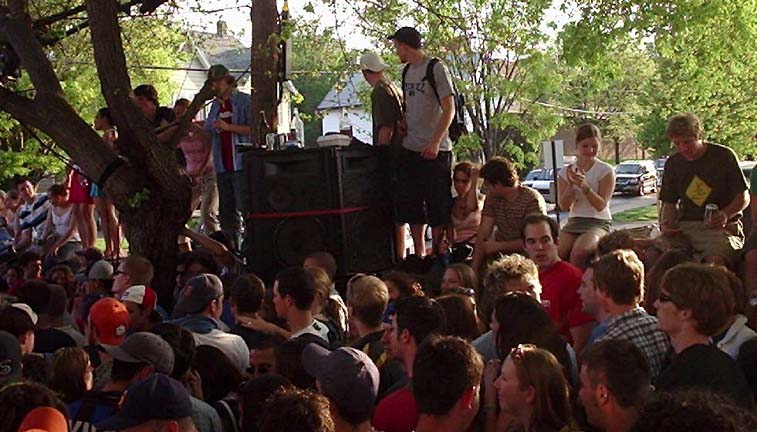 This is the last picture taken. Soon Lefty Groove was cut short by the police who fined the organizers for not controling the disruptive behavior outside the gate. Diatribe was to be the final band but they were unable to play.

A final note: The next year the show was without incident.

Related Links:

Starground Audio David Muddiman - Audio Engineer
Apex Watson With pictures of Skidfest
Brother Sister Band Skidfest pictures online
Diatribe They have played many times at Skidfest
Skidfest Music Recorded by David Muddiman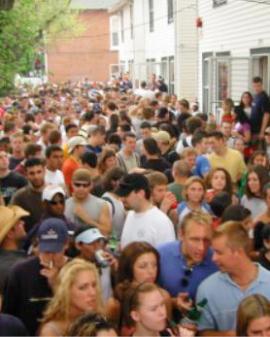 This picture is from Fall 2003 during the performance of Apex Watson
---